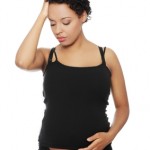 It's well-known that there are physical ailments that are considered "common" during pregnancy. Morning sickness, fatigue, swollen ankles, back pain, and shortness of breath, to name a few. While these are common and many pregnant women experience these, I want to share the idea that you don't have to get these ailments. You don't need to expect to experience them. It's not a "given," even if a condition is hereditary. It may be a well-known fact that women in your family retain water and swell during pregnancy. You may have been told for years that you can look forward to this phenomenon. You might be the exception.
Also, it doesn't have to go exactly the way it did in your last pregnancy. Certainly, if you experienced back pain in your first pregnancy, it might mean that it's more likely to occur again in your second. Yet, I'd encourage you to question the idea that it has to happen again. Sure, you may have received what seems like irrefutable medical information, yet there are also new remedies, approaches, and ideas conceived every day.
Also, you will have different experiences in each pregnancy. Many mothers of two or more can attest to this. Instead of defaulting to "I'll have to endure that again" or "I'll be really tired throughout my first trimester because that's what happened before" or "I'm not looking forward to retaining water," the belief we can hold on to is actually that no two pregnancies are alike.
Where are you assuming that something "unwanted" will happen to you? And…what if you stopped assuming?
Did you like this? Share it: