Ideas & Inspiration for Loving the Pregnant You
Receive ideas & inspiration for loving the pregnant you in your inbox every week! 
Coming Fall 2014!
When you're expecting, it seems like everyone — including total strangers — has plenty of advice to give.  It's easy to begin to believe that you should do this and should do that and … even that you should feel certain ways.
The pressure can start to pile up as soon as that stick shows a plus sign! You may even begin to apply pressure on yourself…thinking and hoping you can do things totally perfectly for your unborn baby during these 9 months.
There's another way…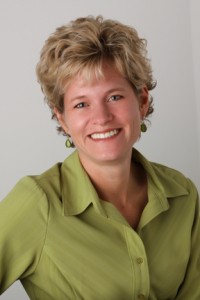 Loving the Pregnant You Email Coaching helps you discover how you ideally want to approach different aspects of your pregnancy. The Ideas & Inspiration weekly emails will provide, well, ideas and inspiration that will enable you to feel empowered and confident!
I'm a Pregnancy Coach and Author who has personally experienced a shift from feeling cynical and uninspired about pregnancy to making a true commitment to enjoy my pregnancies and loving who I was as a pregnant person.
I've been a leadership and life coach for over 15 years, and I enjoy applying my personal development and coaching background to the topic of pregnancy to support expectant moms to discover how to be their best pregnant selves.
Through the Loving the Pregnant You coaching emails I present the issues, concerns, aspects of pregnancy that I know expectant moms grapple with most intensely and frequently, in such a way to help you discover how you uniquely want to approach each aspect of your pregnancy.
No longer will you worry about what you think you should do. Instead, you'll be empowered to discover what you truly want to do, what resonates in your core.
When you receive Loving the Pregnant You Email Coaching, you will…
feel more confident and empowered each week
get ideas and inspiration that you can put into action immediately
hear real stories from real women
approach your pregnancy thoughtfully and with ease, applying only what resonates for you
work through pregnancy-related considerations in an honest, empowering way
feel like you're making great decisions
Want to be the first to know when Email Coaching is available? Click here now!
How does it work?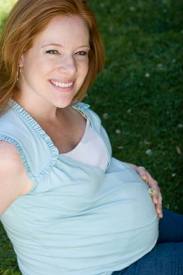 When you sign up, you'll indicate how far along you are – how many weeks pregnant. Then, each week, a topic that's likely to be top-of-mind during that specific week of your pregnancy is explored. You'll get real-world stories and ideas. You won't be told what you should do. Rather, you'll be presented with ideas, inspiration, and powerful self-discovery questions that will enable and empower you to choose your best way to approach the week's topic.
Topics cover the whole range of possible aspects of pregnancy, including:
Choosing your care providers
Embracing your feelings
Knowing what support you want and need
Surrendering to hormones
Feeling needy
Validating your choices
Working the maternity clothes
Dealing with advice
Identifying what you want for you birth process.
Here's a glimpse into what the coaching emails look like…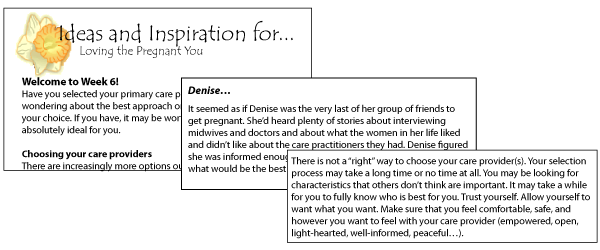 What People Are Saying…
"[It is}…as if Amy were right there with me. If you are looking for the BEST in coaching, look no further, you have found her!!" – Debi K., Mom, Children's Book Author, Life Coach
It's like having a coach show up in your inbox each week!
This is an ideal gift for a loved one who's expecting — or for yourself as you begin this exciting journey. To get on the waiting list for Loving the Pregnant You Email Coaching, click here.
P.S. Remember that pregnancy is a common occurrence. (Billions of us on the planet are all a result of a pregnancy…) There is a lot of information out there and a lot of advice that you'll get. Yet, pregnancy is also a personal experience and what truly matters is what uniquely works for you. Allow Loving the Pregnant You Email Coaching to guide you to the choices that will have you loving the pregnant you.