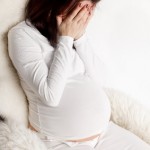 When you're pregnant you can feel like the world is watching – that people are watching how you handle this pregnancy thing… how much weight you're gaining… how you're dealing with hormone fluctuations… what you're getting obsessed about… and so on! You can feel like your decisions and your changing body are on display.
"Being a Publically Pregnant Person" is the title of the first chapter of my book, Loving the Pregnant You (that will be published in February!), because – unlike some other areas of life – people tune in and get interested in your pregnancy. The typical conversations start up: "When are you due?" "Will you find out the sex of the baby?" "Where are you delivering?" "How are you feeling?" It can be nice to have people's interest…yet we can also start to feel some extra anxiety.
Women are notoriously good at putting pressure on ourselves to do things well. Couple that with the idea that you're being observed during pregnancy, and you can start to feel a significant strain. Learning to minimize that pressure and discover how you'd ideally like to do the pregnancy thing is a key to enjoying your pregnancy and loving who you're being as you're pregnant.
I would love for you and every pregnant woman to give yourself permission to be pregnant exactly how you would chose if you could wipe away all concerns of judgment. If you were on a deserted island with no one watching, how would you be? How would you fully express your pregnant self? You could tune into your instincts, reflect on your values, and act in ways that are in alignment with who you truly are. And, without having to assess yourself against the perceived or real expectations of others, you might be able to accept and love your pregnant self and the all choices you make.
In reality (off the deserted island), it takes self-reflection and self-awareness to unravel and quiet all the thoughts in our heads so we can hear what our hearts and our intuition are telling us. If you can do so, there is a profound sense of peace awaiting. It's delightful to swipe away all those concerns about the "right" way to do something and confidently, purposefully step into your own unique methodology. That's available for each of us if we look for and listen to our own thoughts and feelings.
How are you – or how did you – set aside concerns of judgment in order to truly "do" an aspect of pregnancy YOUR way?
Did you like this? Share it: