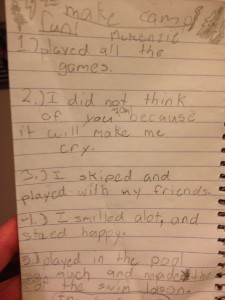 Ideas from an 8-year-old
We're trying a different summer camp, and the kids are not loving it. Now I know they are OK. They have interesting stories to tell, safety is a focus, and they are hanging out with a diverse group of friends.
It's also provided an opportunity for us to explore how to make your own fun inside of circumstances you don't like. One morning I asked my 6-year-old to be on the lookout for every little thing that he liked about camp. Honestly, I wasn't sure he'd remember. He tends to be a wonderfully in-the-moment kid. To my delight, he marched up to me at pick up and declared, "I have 2 things on my list! Sports in the morning and… I can't remember the other one!" Ha! Awesome! He was all smiles and reported it a good day.
His 8-year-old sister and I went a little deeper. She made a commitment one day to have as much fun as she possibly could. We talked about ideas like skipping and humming a tune. At the end of that day, I was impressed when she pulled a small notebook out of her backpack (didn't know that was there!) with a list of things she'd done to have fun. She hadn't wanted to forget. Neatly written out (see picture!) were actions such as: "I smiled a lot." "I made the most of my swim lesson." and "I played all the games." She declared it the best day ever at camp!
She has the power to make the unfun fun! (so do we!)
How will you make the unfun fun today?
Did you like this? Share it: