Stop comparing! It's nasty business.
It's too easy to see another mom excelling in an aspect of parenting and then start to get anxious that we're not doing it right or well enough. We notice and get concerned about this perceived "gap" and totally forget about our accomplishments.
We think about the lady who seems so emotionally connected to her children; the mom who plans and executes weekly, home-cooked, organic meals; the mom who is beautifully scrapbooking her pregnancy; the parents who have the nursery all stocked and ready to go; etc. We end up comparing ourselves to this composite of the perfect parent (like putting together Angelina Jolie's lips, with Gwyneth Paltrow's nose and Jennifer Garner's dimples…). And we can't measure up!
If you fall into this very human and seductive comparison pitfall, you will never win. You'll have anxieties that you don't need to have. There are always going to be women out there who are being more intentional, spending more time, or doing something better in some aspect of mothering.
So, what are you to do about our tendency to make nasty comparisons? How do you continually face your concerns and perceived insufficiencies in an empowering, effective way?
One suggestion? (besides "stop comparing!") Let your values guide you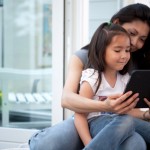 Understand what's most important to you. What are your values? Is it more important to maintain an all-organic, well-balanced diet or to engage in activities that have you feeling peaceful and grounded? Is it more important to have the kitchen cleaned up and organized or to give yourself an hour of rest? Some of you will choose one; some of you will choose the other. Sometimes, you'll say they both are important. And sometimes your answer might be different than it was the day before. The question is, "Right now, in this moment, what is most important to you, your family, and how you're committed to living?"
When you clarify your priorities, then it's easier to resist comparing yourself to others in areas that you've intentionally decided are not areas of focus for you.
Did you like this? Share it: