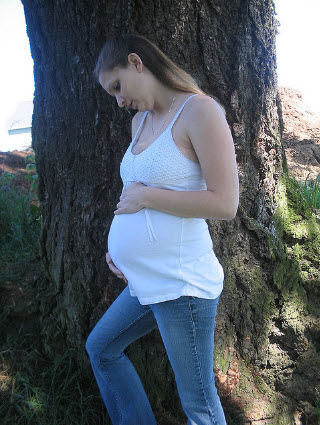 It's easy to think that you only have so many options. There are a limited number of doctors or midwives or birthing centers in your area, right? What if none of the options seem aligned with what you want? What happens when the obvious choices don't feel like your choices? Is your only option to compromise? Not necessarily.
If there's something telling you that you haven't found your best care provider yet, then keep searching. Look into options you hadn't previously considered. Be open to the unorthodox. Ask questions. Challenge what people are telling you. The more you explore, the more opportunity you have to get clearer and clearer about what does and does not work for you.
When Debra became pregnant about 25 years ago, she knew that she didn't want to experience some of the standard practices at the time like episiotomies and epidurals. She knew from the stories told by her grandmother and mother that natural birth outside a hospital setting was possible. Debra wasn't against delivering in a hospital, she just wanted her delivery to be as natural as possible. She met with a number of OB-GYNs who seemed surprised and somewhat resistant to Debra's desire to forego what were accepted and unquestioned practices at the time.
Debra searched unsuccessfully for the right kind of healthcare provider who was ready and willing to support her choices. Eventually, she found a way to create a situation that worked for her. She met a young resident who was willing to hear her perspectives and wishes and work with her to create the experience she wanted. The resident's supervisor agreed, and the resident and Debra learned together. She shared what she knew to be true from the experiences of the women in her family. He shared what he was learning as a medical resident. Together, they brought past approaches and the latest medical philosophies together in a way that worked for both of them.
Debra was delighted to experience an intact delivery (no episiotomy and no tearing) of her 8 lb. 3 oz. baby in a semi-squat position at the end of her bed. She was proud of herself for trusting that her ideal support partner existed, even when it looked like one didn't. She stayed true to her vision and continued to search until the option revealed itself.
Did you like this? Share it: