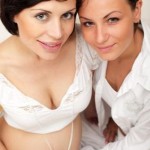 Women are awesome. They are often so very willing to help…especially Mommies.
When I had pregnancy-related questions and when I am in the need of parenting help, I know who to go to. Other Moms! They always have ideas, encouragement, and support.
Too often we have concerns and then when someone offers to support us in some way, we reject the offer! Even when we could really use the support. So, accept the help that is offered you and ask for and accept the help you'd like to have. You don't have to wait until you're in a crisis situation to reach out. You could reach out all the time. It doesn't have to mean you're weak or incapable. In fact, it can mean that you're gracious, generous with sharing yourself, and really smart!
Give yourself full permission to be resourceful. If you're anxious about registering for all the appropriate and best baby products, see how you can lighten your load. If your friend enjoyed registering for baby gifts and is consistently raving about her burp-free bottles and how her diaper bag has pockets in all the right places, take her with you when you register. Or ask for a short list of "must have" items. Or ask her if she'd be willing to handle the complete registry process for you! Getting help with a baby registry is only one example of an infinite number of ways that you could be supported.
Look at who can help you and how they can help you. Where can you skip doing the work because someone already has or could?
Did you like this? Share it: