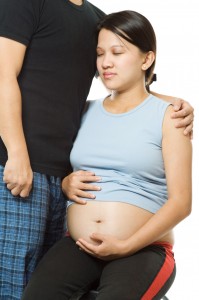 It can be tough to admit when we need to ask for something. It's easy to think we're not as together as we should be or that we're a whiny or wimpy pregnant woman. Please, please let's give ourselves the gift of gentle compassion and the permission to ask for what we need. It can sound easy and we think, "Yeah, yeah, I'll do that. Of course, I'll ask for what I need and what my baby needs." And then it sneaks up on us. We're going along pretending we've got it all together and that we're not stressed and tired as we try to accomplish all that people are used to us handling. We think we can keep going. Or we ask for some help and feel we can't ask for more or don't think to ask for more.
Anna found herself wanting to ask for something that seemed really hard to ask for. She typically walked the eight city block walk from the train station to her office building. While she was pregnant she started to resent this walk that used to invigorate her. Previously, she would walk briskly to work enjoying the physical exertion and the idea that she was saving her family money by not taking a cab. Now she felt differently! The walk was taking longer, she was getting sweaty, and she just wanted to get to work earlier to take care of things in the morning while she felt fresh and alert. She wanted to talk to her husband about spending money on cab rides.
It was a hard conversation for Anna to decide to initiate. She kept telling herself that she should toughen up, that it was good for her and the baby to do this walk every morning. She thought about the weekly cost she'd incur and felt guilty and self-indulgent. Yet, the desire did not go away, and she finally broached the subject with her husband sharing about her concerns and guilt. Her husband looked momentarily confused, and Anna admits there were a few seconds when she was thinking about abandoning the request, and then she pushed on. Even if he thought it was frivolous or unnecessary, it was something she wanted. Once her husband understood the significance of the request for Anna, he was more than happy to agree to spend the money.
Please join the conversation: Where are you not asking for what you need? What support can you ask for?
Did you like this? Share it: