Often in pregnancy we experience heightened emotions. It's normal. It's natural.
However, when it's happening, we often don't feel like it's normal and natural. It can feel wrong, overwhelming, vulnerable.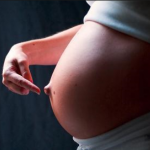 In her first pregnancy, Melinda experienced a physical characteristic that felt so vulnerable to her: her belly button pop out. It was just so out there and apparent when it popped. Melinda said it was like an obvious nipple or a sign that she had gotten "that" big. It bothered her. She was embarrassed, ashamed even. Then, during her second pregnancy, her belly button popped out months earlier than with her first child.
She decided she was going to embrace this vulnerability. She simply decided she didn't have the time or energy to try to squash her feelings of embarrassment. She was going to be embarrassed…so be it!
She didn't want to spend months trying to figure out which clothes would hide the protrusion. And it was summertime and she was hot, so she didn't want to consider adding more layers. Melinda got defiant about it. She thought, "Here it is. My belly button popped out super early. Take a look!" She became proud of it. It was amazing what was possible when she stopped resisting the vulnerability and embraced it.
Now, I know dealing with a belly button pop out may not sound like a significant example of heightened emotions. It may seem so superficial and not important in the big scheme of things. And, Melinda had those thoughts, too. She made it worse by trying to tell herself that she shouldn't feel embarrassed and worked up about something like that. But she was.
We want to let ourselves feel what we feel. How have you embraced your feelings?
Did you like this? Share it: