Thank you for requesting the free eGuide, "5 Ways to Love the Pregnant You." The link to download your copy of the eGuide is right below this paragraph. You may want to bookmark this page in your internet browser so you can come back here at any time.
Download your FREE eGuide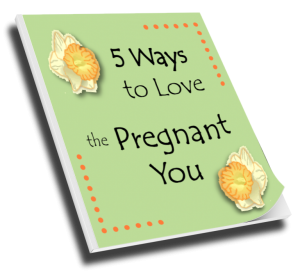 "5 Ways to Love the Pregnant You" by clicking here.
Enjoy!
After you've read the eGuide I'd love to get your feedback, please email me at amy@lovingthepregnantyou.com.
Also, each week you will get an email from me with an empowering pregnancy tip that will provide you with ideas and inspiration that you can immediately act on. Look for your next pregnancy tip in your inbox next Thursday!
And, I invite you to check out Loving the Pregnant You Email Coaching. When you're expecting, there is a lot of advice you may get and pressure you may feel to make certain choices. It's easy to begin to believe that you should do this and should do that and…even that you should feel in certain ways. Don't fall victim to thinking you should do your pregnancy a certain way! Remember that you always get to say. You can discover the choices and perspectives that work best for you, and Loving the Pregnant You Email Coaching can help you do that!